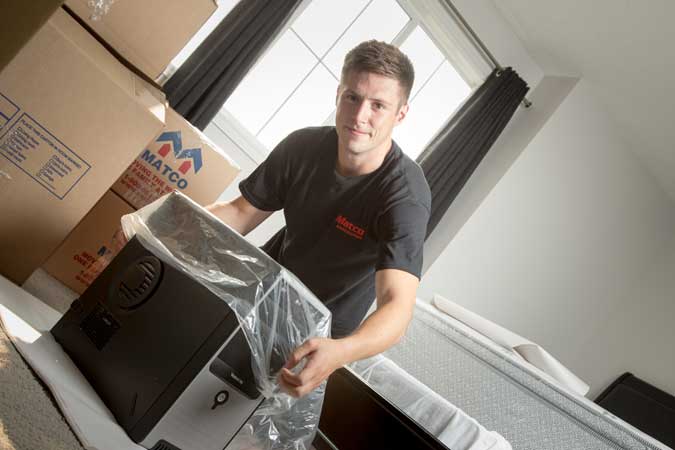 The house is sold and your new home awaits. Moving can be both an exciting time and a stressful time. No matter if you are moving a few blocks, to a new city or to a new country, there are many important things to do before the big day. That's where a professional moving company can be a big help; leave the planning, packing and heavy lifting to the experts.
Not sold on the idea of hiring a professional moving company? Consider some of the key benefits of using a moving company:
Peace of mind
Moving takes a lot of planning and preparation. Moving Consultants can help you organize your entire move from start to finish, ensuring nothing is missed. Now you have more time for other important moving day tasks such as redirecting mail, cancelling cable services, and holding a garage sale. Use a moving checklist to make sure you're not missing any pre-move to-do items.
When moving on your own you are not protected if items are damaged along the way. Your valuables and belongings are insured with a moving company, offering protection plans. Professional movers in Calgary, for example, know how to properly pack your belongings, reducing the risk of damage.
The right equipment for the job
When you move, renting a moving van can be costly, especially if the vehicle is not large enough for all your boxes. Making several trips can be a waste of time, money and gas. Moving companies have the right resources at their disposal. For example, a professional moving company in Edmonton has the right size truck to fit all of your furniture and household items. Movers also have the right tools to disassemble and reassemble furniture as well as dolly's to transport larger items.
Prevent injury
Prevent injury to yourself and to those helping you move. Professional movers also reduce the risk of damage to your personal belongings. Movers are trained in the proper techniques to lift heavy furniture and boxes. They also know how to securely pack fragile items such as electronics, china and glassware. Professional movers, whether in Calgary, Fort McMurray or Whitehorse, will pack the truck, optimizing space while making sure boxes are safely stacked on top of each other. Experienced movers are fast, organized and safe.
Manpower guaranteed
It's not always easy to convince family and friends to block off a day or two to help you move. Moving companies are properly staffed to send the right number of people to quickly and efficiently move homes of any size.
Matco Moving Solutions is the Moving Company of Choice in Alberta and in the North
Matco Moving Solutions has more than 50 years of experience in the Canadian moving industry. With locations in Calgary, Edmonton, Fort McMurray, Hay River, Inuvik, Norman Wells, Yellowknife and Whitehorse, we have you covered! Contact us, or get a free quote. We want to move you!
Share This Story, Choose Your Platform!