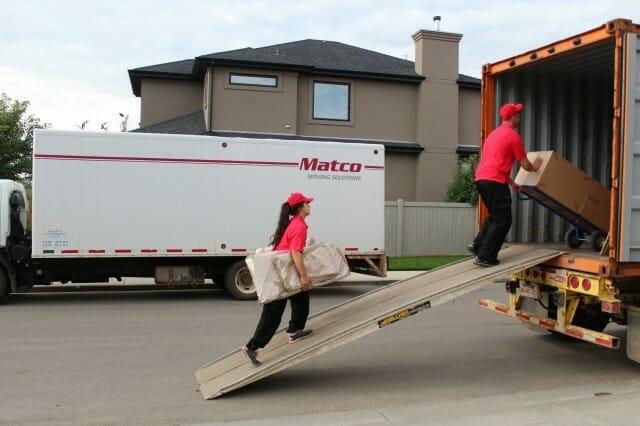 Hiring a moving company is a great way to remove the stress of moving. It can be a relief to leave the heavy lifting to the experts. Professional movers can take care of the majority of moving tasks from planning to packing to unpacking, but there are some things you can do to prepare yourself, and your home, to ensure moving day goes quickly and smoothly.
Know what items can and cannot be packed
Request a list of items that your movers cannot pack and transport. Many professional movers will not transport certain items for safety reasons such as aerosol cans, paint, and other flammable substances. Consider giving these products to neighbours, family or friends. If you can't find someone to take these items then properly dispose of them before the movers arrive.  If you decide to go ahead and bring any items on the restricted list, then you will have to pack them yourself and transport them in your car.
There are some items you may want to pack yourself due to their personal nature including private documents and valuables. Check with your mover to see what items are not covered under the moving company's valuation protection plan.
If there are items that you do not want the moving company to pack and would prefer to move them yourself, such as your essentials box, then put them in one spot and clearly label them.
Clean and Organize
Clean all items that will be packed in boxes and moved to your new home. Wipe down all surfaces, including tables and desks. This way all the furniture is ready to be moved.
Prepare appliances and equipment
Get your appliances ready before the movers come. If you are moving large appliances, make sure to unplug, empty and clean them. Clean small appliances before packing. Make sure to throw out coffee grinds and empty the toaster tray. If there are any appliances you are unsure about, consult with your moving company to establish the best way to pack and transport those items.
Drain the fuel and oil from lawn mowers, snow blowers and any other fuel-powered tools or pieces of equipment. If you are moving in Calgary or Edmonton during the winter, you should also dry off any items that have been out in the snow, to ensure that they are not wet and prevent any rusting during transport.
Prepare the house, both inside and out
Before your movers arrive, clear entrances and pathways throughout the house to help them manoeuvre your home with ease. Movers will go more quickly if your house is not an obstacle course.
Protect floors and carpets with efficient coverings such as cardboard and place doormats to prevent dirt from getting on the floors. You'll want to ensure both your new residence and the home that you are moving into are prepared as best as possible.
Leave the driveway clear of vehicles. Park your car in a neighbour's driveway or on the street. The driveway will be needed for the moving truck, reducing the space between the front door and the vehicle. If you do not have a driveway, consult with your municipality to ensure that temporary street parking can be accommodated. The ability of the moving company's truck to quickly and easily enter and exit the premises will greatly benefit the overall moving process.
Have a plan for kids and pets
Consider hiring a babysitter to watch your children, or see if a family member or close friend can watch the kids during the move. If your children are of an age that they wish to be a part of the move, ensure that they understand what is going on, and plan ways in which they can help. It can also be very helpful to have snacks on hand if they get hungry or restless.
When moving with pets, consider leaving them with a neighbour, family or friend. If that is not possible, then isolate them from the action by placing them in an empty room or in a kennel.
Double check nothing has been missed
If packing your belongings by yourself, go through the entire house, including the attic and garage, to make sure nothing is missed before the movers come. Check every drawer, closet and cabinet.
Remember, even if you have hired a full-service moving company, these steps will help speed up the move and minimize risk to your property and time delays. For more moving tips contact Matco Moving Solutions. We have expert teams of movers in Calgary, Edmonton & Fort McMurray, as well as Yukon & Northwest Territories. Call us today at 1-800-661-3618 to learn more.
Share This Story, Choose Your Platform!