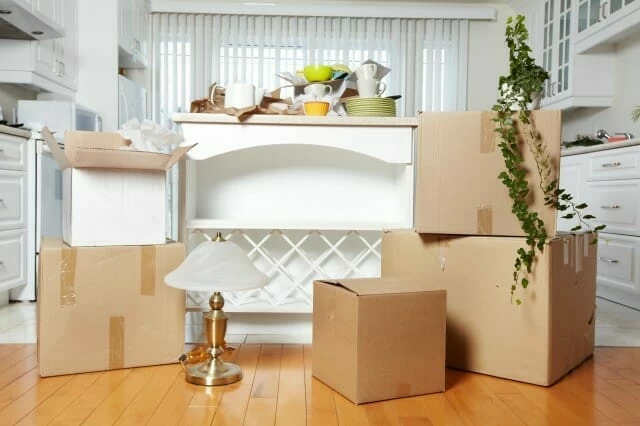 When it comes to packing, the kitchen can pose its own unique challenges. You will need access to some of your kitchenware right up until moving day. Not to mention, the room is home to many unusually shaped – and sharp – objects that need to be efficiently and safely packed.
If you have been avoiding tackling your kitchen area, or have started the process only to find it difficult, consider the following tips from experienced residential movers in Calgary and Edmonton.
Simplify Packing Your Kitchen for Moving Day
Make packing up your kitchen as easy as possible with the following tips and techniques discovered through years of moving residents and businesses across Calgary and Edmonton:
Discard Unused Items – The kitchen can become a holding place for many unused items. If you have appliances, tools, or dishware that has never been used, now is the perfect time to sell or donate. This advice applies to every room in the house, but is especially useful in the kitchen, where things suffer more wear & tear, and can develop a stench from foodstuffs over the years as well.
Manage Consumables – During the spring, summer & fall, the movers at Matco Moving Solutions are able to transport canned and dry goods. However, during the winter, these goods are too liable to be damaged. Additionally, perishable goods cannot be transported by professional movers. Instead, plan in advance and try to work your way through any food products rather than having to transport or throw them out.
Get the Right Materials – Talk to your moving company in Edmonton for boxes that are designed to handle a busy move and the weight of your items. Sourcing cardboard from the grocery store or other locations can be cost-effective, but unreliable when it comes to safely loading and unloading your items.
Pack Carefully – view our past blogs for advice on packing china & glassware as well as packing appliances. Also, be sure to pack your knives properly to ensure safety, and help keep them sharp. The proper supplies can be extremely helpful in this regard, bubble wrap or airbags, as well as packing paper, can be very helpful. Contact our movers to learn more about the packing supplies that we can provide prior to your move.
Keep Essentials Accessible – A small set of dishes, utensils, the kettle, and dish soap should be available as soon as you arrive at your new location. Nothing puts a damper on move-in day excitement like taking hours just to find something to eat off of! Define your essentials and set them aside. A duffle bag or smaller box can be used to keep these items together.
Pack Infrequently Used Items – Decorative items, duplicate tools, cookbooks, and other items you do not use daily (or weekly, depending on how early you will begin packing) can be neatly packed away.
Label Boxes – This step is a crucial part of making your kitchen easy to pack and unpack. Consistent labelling that is easy to read and understand will help everyone involved in your move to place, locate, and organize the boxes and their contents in your kitchen.
Protect Fragile Pieces – Bubble wrap is great for delicate items and stacks of dishware. Packing paper can be used to fill empty space in boxes and limit the amount of shifting that occurs in transit. Stretch wrap, packing tape, and other supplies should also be kept handy when you begin packing.
Manage the Weight – Many of the small appliances in your kitchen are quite heavy. Depending on the items, a cardboard box may not hold if it's filled to the top. Be mindful of the weight of your boxes while packing to ensure they remain sturdy.
Work with Reliable Movers in Calgary and Edmonton for Your Home or Apartment
If you are interested in more advice to make your packing process and the moving day less stressful and more organized, check out our moving checklist and talk to our team of experienced movers at Matco Moving Solutions. We offer a range of moving services for residential moves and commercial relocations, as well as storage solutions for your belongings. Count on us for streamlined services and more than 50 years of experience as a leading moving company in Alberta.
Request a free quote online for your moving day or learn more by calling us at 1-800-661-3618. Get answers to your moving inquiries and find out more about our comprehensive services by contacting us today.
Share This Story, Choose Your Platform!