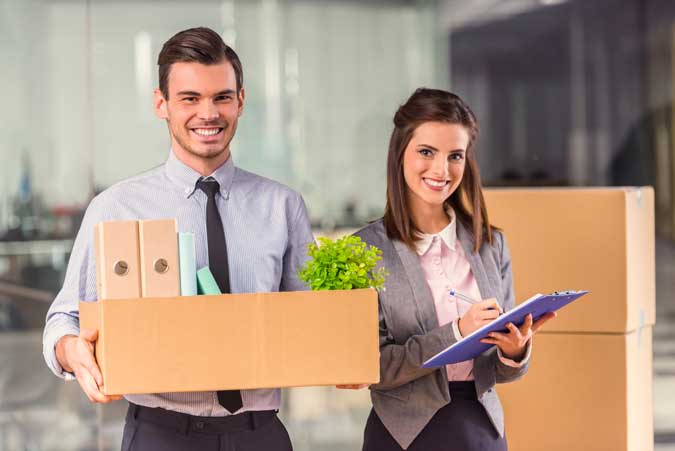 When planning an office move there are many important items that need to be taken into consideration. Whether moving a small office or a large corporation, a timely and smooth move comes down to the right preparation prior to the move date.
Hiring a professional moving company that offers office moving services will eliminate the unnecessary downtime that can come with moving an office to a new location. Reliable moving companies have qualified moving consultants to assist in the planning portion of the move as well as qualified movers and packers to expedite the moving process. Good office movers get companies set-up in the new facility and back to business as soon as possible.
Use Matco Moving Solutions' office moving checklist below to help with the next company move.
STAGE OF COMPLETION
PERSON RESPONSIBLE
START DATE
IN PROCESS
COMPLETED
STAFF MEMO DESCRIBING MOVE DETAILS
CHANGE OF ADDRESS NOTICES
Banks and financial institutions
Clubs and organizations
Credit accounts and credit cards
Customers
Insurance companies
Lists from ledgers
Newspapers and magazine subscriptions
Post office
Telephone company
Prospects and other lists
Supplies and special services
Stationary and business cards
PUBLIC RELATIONS
Schedule press releases
Client announcement
Receptions
Signs
MOVING COMPANY
Qualifications check
Mover's insurance check
Moving labels
Packing materials
Ensure movers have a floor plan, move schedule
SPECIAL REQUIREMENTS
Equipment move by manufacturer or movers
Computers
Fax
Photocopiers
Safes
SECURITY
Old premises
New premises
ELEVATORS
Reserve elevators and docking areas
CLEANING
New premises before occupancy
Old premises after the move
KEY/ENTRY CARDS
Collect old keys/entry cards
Assign new keys/entry cards
TOUR NEW PREMISES PRIOR TO MOVE
SCHEDULE MOVE
Assign move supervisors to departments
Plan date and hours of the move by department
Plan date of delivery of new furniture
Plan date of delivery of refurbished items
Assign labels by location on the floor plan
Tag all equipment and furniture by location
FILING
Sort/dispose of dead material prior to move
Discuss with movers records management
UNPACKING
Schedule staff
CLEAN UP
Plan removal of all cartons and tags after the move
ASSIGN MAINTENANCE
Department
Kitchen
Washrooms
DEFICIENCY CHECKLIST
Complete work station deficiency checklist
Download the office moving checklist. Matco Moving Solutions has experience moving offices in Calgary, Edmonton, and throughout Alberta, Northwest Territories and Yukon. Contact Matco Moving Solutions with your office moving questions. One of our professional Consultants will be more than happy to help.
Share This Story, Choose Your Platform!