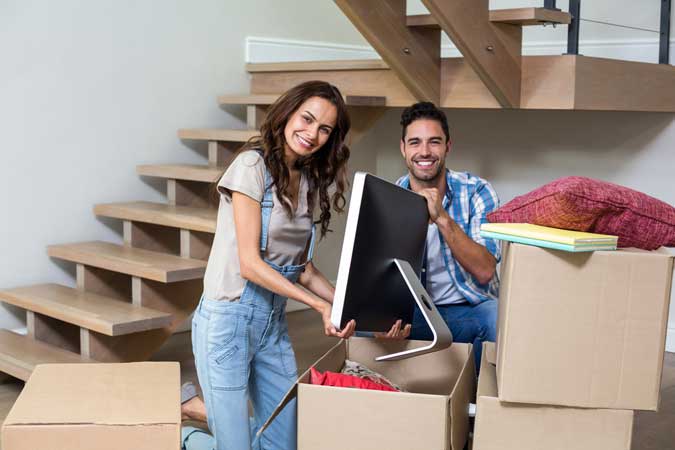 When you are relocating, the last thing you need to worry about is whether your electronic items are sustaining damage. You can avoid such worry by properly packing these items prior to your move. By taking a little precaution in advance, you can get all of your electronics moved safely, so everything is intact when you are ready to unpack.
One of the best safety measures you can take is to use a moving company that respects the safety and takes proper care of your belongings. When you hire our Edmonton movers or Calgary movers, our experienced specialists will ensure you are taken care of from start to end. All you need to do is get packed and get moving.
Tips for Moving Electronics Safely
Do not leave the safe relocation of your electronic possessions to chance. Follow these tips for packing and moving these items the right way:
Original Packaging: If you have saved the boxes for any of your electronics, use those to pack the items. Manufacturers and shippers are committed to getting products safely to their customers, so using their original packaging is ideal. Your items will fit in these boxes perfectly, and they will be cushioned with the materials that kept them safe right out of the factory. Be sure to pack instruction manuals with products, so you do not misplace those during the move.
Generic box: If you don't have the original packaging and you are using a generic box, ensure that you put enough bubble wrap or air pillows to keep the device from shaking or moving. It is advisable to keep each item separately wrapped.
Unmarked Boxes: When you plan to leave your possessions in a storage facility, use unmarked boxes for expensive items. If you have the original packaging for electronics such as TVs, computers, and stereos, you can still make use of them. Simply position the electronics in their proper boxes, and then, place those in slightly larger, unmarked boxes. This will help to deter thieves from noticing them at the facility before you have a chance to store them. If you will be storing your valuables with Matco Moving Solutions, you can rest assured that your items will be safe. Not only do we have 24/7 security cameras watching your valuables and an onsite manager at each storage facility, but our employees have also been through extensive police screening. If you are looking for additional security, consider storing your valuables in our Edmonton or Whitehorse locations as they have additional fencing on the premises. We take pride in the safety of our storage facility!
Remove Items from Devices: First, remove any items that have been left inside your devices to ensure that no untoward damage will happen due to the constant motion during transport. This includes Blu-rays, DVDs, CDs, toner and printer cartridges, and even batteries. Tape up any openings, such as DVD drives.
Loose Parts: Put loose parts in bags, and remember to label the bags. This will keep them organized, and you will not waste time later trying to figure out which parts belong to which gadgets. Cables and Cords: Wind all the cables and cords neatly, and tie them with twist ties. When you arrive at your destination, you will not be faced with a confusing mess of loose or tangled cords. It will be beneficial to label them so that you would know which device they are meant for.
Anti-Static Materials: When packing your electronic belongings, use anti-static wrap for additional protection. Items that are generally benefited by this precautionary measure include TV screens, computer monitors, DVD's, cellphones and other electronics. These anti-static materials are generally pink in colour. Anti-static packaging allows for the static charge to travel around the items then dissipate through the chemically coated surface, rather than potentially damage the items within the packaging.
Residential Movers You Can Trust – Serving Edmonton, Calgary & Beyond
Do not trust your belongings to anyone but experienced residential movers. When you take the time to carefully pack your electronics and other valuables, you will want to ensure that they remain safe.
Matco Moving Company has a 50-year track record of success in Calgary and Edmonton. Our customers know that we will transport their possessions safely and reliably with every move. Relocating is a big step, and we want to help you take that step with as little stress and worry as possible.
Reach us today at 1-800-661-3618, or contact us online for a free quote.
Share This Story, Choose Your Platform!