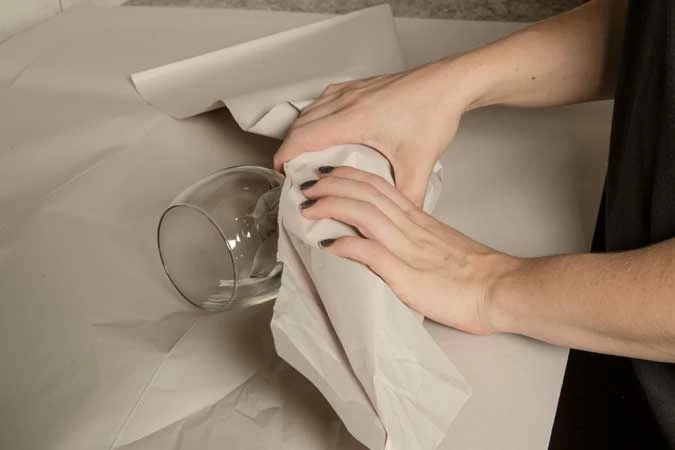 Packing china and other fragile items can be stressful. With happy memories of only using the china on special occasions and treating each piece with extreme care, you want to make sure you pack each piece safely.
Your china is not travelling a few feet from the kitchen to the holiday dinner table; your china is embarking on a residential move, potentially travelling hundreds or thousands of kilometres.
Whether your fine china is a family heirloom passed down from your great grandmother or is the first generation, it is now your turn to keep it safe. Don't be intimidated, as long as you have the right packing supplies and follow these steps, your china is sure to arrive at your new home safe and sound.
If you would rather not take the risk of packing your fragile items on your own, many reputable moving companies provide packing services. Professional movers are trained in the best techniques to keep your fragile items safe.
Packing supplies to keep your china safe during your move:
Packing tape
Bubble wrap, packing peanuts and packing paper (avoid newspaper as it can smudge the china)
Dish pack boxes
Marker
Packing china plates
Use packing paper or packing peanuts to layer the bottom of a dish box to create a cushion.
Wrap each plate individually and then bundle in threes (no more than four) with a layer of bubble wrap in between each plate. Place each bundle sideways in the box. Never lay plates flat, they are stronger standing up. Place packing paper or peanuts between each layer and fill in any gaps. Make sure there is no room for the plates to move around.
Seal the box with packing tape. Tape down the middle and across the side edges.
Mark the box "Fragile China" on each side of the box.
Packing china cups and glassware
Wrap each piece of glassware or china cup with bubble wrap or packing paper.
Prepare the box by placing packing peanuts or paper at the bottom, creating a cushion.
Unlike plates, glassware and china cups should be placed on their bottoms, as if you were serving them on the table.
After placing a layer of cups, top with a piece of cardboard. Add packing paper on top of the cardboard as well as down the sides of the box and in any gaps. Continue until the box is full.
Seal the box securely with packing tape and mark the box as "Fragile china/glassware".
Matco Moving Solutions is an industry leader in residential moves and packing
If you require expert packing and moving services, contact Matco Moving Solutions. With 50 years of experience in residential moving, Matco is a leading moving services provider in Edmonton, Calgary, Fort McMurray, the Northwest Territories, and Yukon.
Share This Story, Choose Your Platform!